Posted by
Sep 10, 2010
in
News & Notes
|
199 comments
on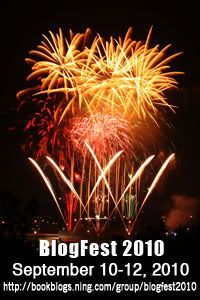 We're participating in BlogFest 2010. Readers, take heed, more than 200 book blogs are hosting giveaways through the weekend, and you best get in on the action. First, you'll want to enter our giveaway for the first three Vampire Babylon books (details to follow). You can see all the blog participants, prizes and even enter a super grand prize contest by checking out the BlogFest HQ at A Journey of Books.
A real quick hello to those visiting our blog for the first time. Vampire Book Club, despite the name, covers most urban fantasy, paranormal romance and fantasy — both adult and YA. We'd love for you to join us in our group read of City of Bones by Cassandra Clare this month. But, if you're just here for the contest, let's move forward!
Chris Marie Green writes in three novel story arcs, which means you're going to get a complete story by reading the first three books in her Vampire Babylon series. The urban fantasy series does get steamy, so paranormal romance fans will certainly enjoy. (Chris Marie Green also writes romance under the name Crystal Green.)
Not familiar with the Vampire Babylon series? Here's what you're getting into: old hollywood stars returning as vampires, supernatural private investigators, secret underworld filled with mystery and a heroine discovering more about her past and just who she really is.
GIVEAWAY!
One winner will receive (click titles to view descriptions on Book Depository):
THE VAMPIRE BABYLON GIVEAWAY IS NOW CLOSED. THE WINNER HAS BEEN EMAILED.
CONTEST RULES & DETAILS
You must fill out the form to enter. Comments alone do not count as an entry.
You will get 3 additional entries in this contest if you're a follower — be it via Google Friend Connect or email. It's not required, but we like giving our readers a leg-up. (You get the 3 extra entries even if you're a new follower, so, join the club!)
For +1 additional entry, comment on this post and tell us: Would you want to be immortal? Why or why not? (Make sure you use the same name or email as you did when filling out the entry form.)
This contest is open to residents of the U.S. and Canada only.
You must enter no later than 11:59 p.m. on Sunday, Sept. 12.
Winner will be contacted via email. She then has 48 hours to respond and claim her prize, or we will select another winner.
Entrants must be at least 13 years old, or have their parent's permission to enter this contest. Please review our privacy policy, if you have any questions as to how Vampire Book Club uses your information. (Short version: we'll only use it to contact you for this contest.)
Vampire Book Club has the right to change or cancel any giveaway at any time without prior notice.
Now that the legal stuff is out of the way. Enter, comment and hope you win books by Chris Marie Green!
For those following BlogFest 2010, the next blog on the list is one we like quite a bit: Supernatural Snark. Jenny loves speculative fiction just like we do and she's witty to boot!