Posted by
Jun 16, 2011
in
News & Notes
|
1 comment
on
Despite being ultra travel lady as of late (who's in San Diego this week? THIS LADY!), I've pulled together 10 book-related tidbits for you this week including some great new cover art, a chance to listen to the Devon Monk books, an update on the Barrons scene from Karen Marie Moning and, of course, a quick contest roundup.
L.A. Banks is gravely ill
We posted about this earlier in the week. You can read that post with details on where to send cards, donate to help cover medical bills here.
Disillusionists on TV? Maybe.
Carolyn Crane's utterly amazing Disillusionist series, which opens with novel Mind Games (review), has been optioned for TV. This doesn't mean it will be coming to a small screen near you, necessarily, just that someone is working to get someone to buy it. It's such a unique world and I love the idea of seeing it come to life on screen. Read all the details over on Carolyn's blog.
Genre fiction is good for you
I loved this post from Paul Goat Allen. In it he talks about the way others view genre fiction (paranormal, urban fantasy, sci-fi, etc.) as lesser. Then he talks about how he's learned from these books.

Allie Beckstrom comes to audiobook
If you'd like to hear Devon Monk's series, you're in luck. The Allie Beckstrom series has been picked up by Tantor Audio. The audiobook version of the first book Magic to the Bone is available now.
Exclusive Barrons scene update
Karen Marie Moning is asking everyone to be patient on the Barrons POV sex scene fans won as a result of Jericho dominating in our Alpha Showdown. She promises this isn't just a simple couple paragraphs and it will be well worth the wait. We'll keep you posted.
Iron Fey: Who put Puck on my Prince Ash book?
Julie Kagawa revealed the back cover of her upcoming release The Iron Knight. The front is delicious in its Prince Ash glory, but, of course, Puck probably threw a tantrum and got himself on the back cover. See both the front and the back covers on Julie's blog. Despite my jokes about Puck, I'm very much looking forward to The Iron Knight. And a little nervous. Will we get our happy ending? The book is slated for release in October.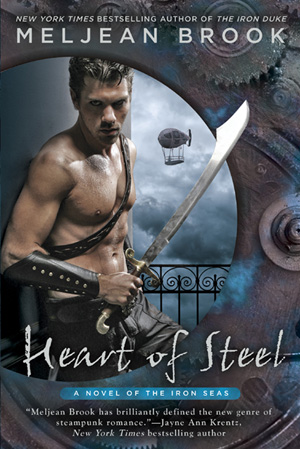 More Rhiannon's Law on the way
We finally have a release date for the follow-up to J.A. Saare's Dead, Undead or Somewhere in Between (review). The Renfield Syndrome will hit shelves August 23, 2011.
Advance tickets on sale for Harry Potter
We're less than a month away from Harry Potter and the Deathly Hallows Part 2, and I'm super excited. I'm ready for the battle, and I'm expecting to cry. If you're super excited, you'll be happy to know that advance tickets are now on sale for the final Harry Potter film.
I plan to be at a 12:01 a.m. showing on July 15. (But that's me.)
Iron Seas: Final cover for Heart of Steel
The final cover art for Meljean Brook's Heart of Steel, the second book in her totally awesome Iron Seas series (we named The Iron Duke one of our top 10 reads in 2010). Peek at the cover — and its not-so-subtle sword placement — and let us know if that's how you pictured Archimedes Fox. Heart of Steel is due for release November 2011.
New Jane True cover art
Nicole Peeler just shared the cover art for Eye of the Tempest. It's a departure of sorts, what with the red and all. Take a look and share your opinion in the comments.
CONTEST ROUNDUP
Have some book-related news (unless it is an established series, release dates aren't considered news) or a contest you'd like to see included in Book Bits? Email us the details.