on
I've made no secret of my love for Jeaniene Frost's Night Huntress novels. It has a strong woman, an alpha male and vampires — so, it's no surprise it's up my alley. But it's more than that. Jeaniene is one of those authors who makes the fantastic real, makes the impossible plausible. Not only do you get great paranormal romance, urban fantasy and bit of mystery in her novels, but she makes you believe it. (For the uninitiated, the first book is Halfway to the Grave.)
I was very excited when she agreed to answer a few questions. Read on for her thoughts on what's off-limits in Night Huntress, ghosts, Vlad and even Mencheres and the BDB hanging out. And, following the Q&A, VBC will be offering up a copy of One Grave at a Time (review coming later this week).
Vampire Book Club: You've covered vampires, ghouls, the walking dead and, with One Grave at a Time, ghosts. Are there any preternatural beings you'd consider off-limits for the Night Huntress novels?
Jeaniene Frost: I wouldn't add werewolves because if they existed, by now someone should have mentioned it. The closest I came to touching the "were" mythology was having a demon in First Drop of Crimson be able to shapeshift into anything it wanted. I'd introduced demons into the series by default when I based my vampire origins off a fictional variation of the Biblical reference to the "mark" of Cain (many references to demons in the Bible) so demons and demonic shapeshifting didn't break previously-established worldbuilding rules. However, if I all of a sudden claimed that X species existed alongside vampires, yet the millennia-old vampires in my series didn't know about them…well, I wouldn't buy that, so I wouldn't expect readers to, either.
Vampire Book Club: Are any more interesting to write than the others (vampires excluded, for obvious reasons)?
Jeaniene Frost: No, I've had fun writing all the creatures in the Night Huntress universe. Each represents their own challenges, too. After all, if humans can be so different, yet we're all the same species, how could I write paranormal species as very similar without making it seem too far-fetched? Also, since not all humans get along, it didn't make sense to me that separate paranormal species in my world automatically would. Even though I'm writing fiction –and supernatural fiction at that – I want readers to feel a touch of realism. That's why ghosts are considered second-class citizens in my paranormal hierarchy, ghouls and vampires argue over which species came first, demons stir the pot from the sidelines, and occasionally black magic will cause more trouble than all the other species combined.
Vampire Book Club: I've read your explanations as to how you devised the rules for the vampires in your novels — having wood kill them is impractical as its too readily available, etc. What helped you define the rules for your ghosts?
Jeaniene Frost: One of the first things I ask myself when creating a paranormal creature is, why doesn't everyone know this species exists? For ghosts, the answer was because only psychics or other paranormal creatures can see them – normally. But with every rule, there has to be an exception. Some ghosts in my series are so strong that they can manifest themselves. It's a rarity, but every species has some unusual members in it, right?
Once the "how" of a creature's existence is worked out in my mind, I move onto strengths and weaknesses. With ghosts, their main weakness is pretty easy to guess – they're made of air. That takes them out of the game most of the time. However, could this weakness also be a strength? Yes. Ghosts are the world's best spies since they can flit in and out of places because they're made of air. Also, as mentioned, some rare ghosts can fully manifest themselves. This is the crux of the problem in One Grave at a Time: Cat and Bones are trying to kill a creature that, 99% of the time, is made of air. Yet when that ghost wields his power, he can manifest flesh long enough to do some serious damage to my heroine, hero, and everyone around them.
Vampire Book Club: In One Grave at a Time, Cat discovers the horrors of the Malleus Maleficarum (a how-to guide for witch hunters, including torture techniques). Though Bones warns her not to read it, she's aghast. Did you read the book? And, if so, did it give you nightmares about living before the modern era?
Jeaniene Frost: Yes, I read it. It's chilling because it's at turns melodramatic (talking about the evils of witches) and utterly dispassionate (talking about the best ways to hunt, torture, and kill them). I first heard of this book and its repercussions many years ago while watching a History or Discovery channel documentary on old European witch hunts. It horrified me then how easily someone could be condemned as a witch, and how often those "witches" were women whose only discernible crime – aside from their gender – was being unconventional. We, rightly, value strong women today in most cultures, but back then it could literally be a death sentence. Some people bemoan about how they were born in the wrong era. I've never felt that way. I've always been grateful to be born during a time where being a strong, opinionated woman might offend a few people, but it won't result in me losing my life or my freedom.
Vampire Book Club: Bones made quite a showing in our Alpha Showdown a few months ago. Despite his protective nature, he gets along well with other fierce men. (Well, he endures Ian and Vlad.) Do you think he'd play well with any other alpha contenders such as Curran (Kate Daniels), Raphael (Guild Hunter), Barrons (Fever) or the Black Dagger Brotherhood guys?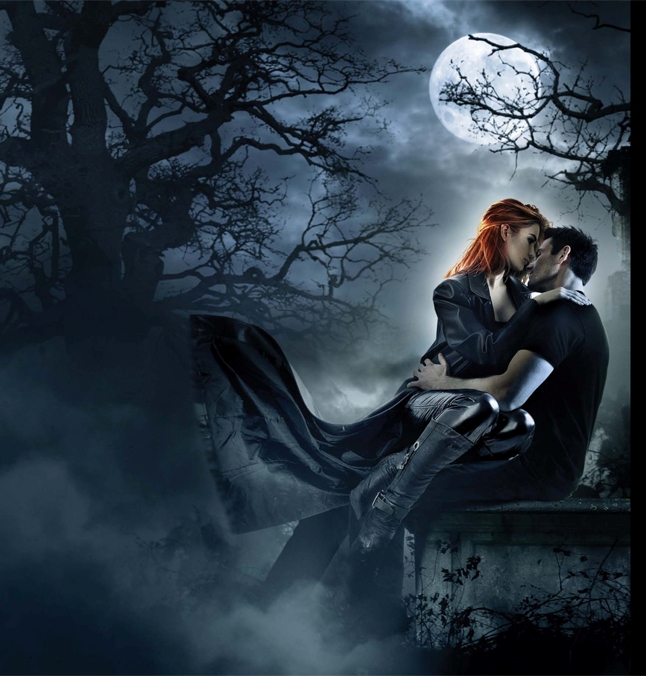 Jeaniene Frost: Bones and Curran could go out for drinks and lament about how the women they love keep throwing themselves into danger, lol. I love Raphael from the Guild Hunter series, but he might look down on Bones because in that world, vampires are a byproduct of angels and not necessarily their own dominant species (can't wait to read Dmitri's story and be proven wrong, though!). Barrons…don't hate me, but I haven't read the Fever series yet. It's been on my shelf, waiting for me to get caught up on my deadlines. I wanted extra time for that because I'm sure once I read the first book, I'll glom through the rest. BDB boys – the character from my books I'd most want to see interact them wouldn't be Bones, but Mencheres. He's normally so formal, but I crack up picturing Mencheres talking "street" with the BDB males. You feelin' me? *wink*
Vampire Book Club: Will Marie Laveau make another appearance? The power and creep factors alone make me want to see her and Cat interact again.
Jeaniene Frost: I'm not sure. I love Marie's character because she's so scary and strong, but she also has a sly sense of humor that occasionally pops up. Even if I couldn't work her into Cat and Bones's story again, I'd do something else with Marie. She has so much potential for making things interesting.
Vampire Book Club: And because the readers will kill me if I don't ask: What can you tell us about Vlad's spin-off series, Night Prince?
Jeaniene Frost: The title of the first book in the new Night Prince series is ONCE BURNED, and it's set to release at the end of March. I'm in the process of finishing it as we speak. Vlad is the hero, as everyone knows, and I'm introducing a new character named Leila as the heroine. Leila is human, but she's got her own unusual abilities, and those end up throwing her and Vlad together. Look for the back cover description to go up on my website soon, and there will be at least one sneak peek at ONCE BURNED in the next month or so. Vlad and Leila will have at least two books – more if I find that, as with Cat and Bones, I'm not done with their storyline at the end of book two. We'll have to see if they have more adventures in store once I'm at that point.
Vampire Book Club: Readers, I highly suggest you pick up One Grave at a Time,
which hits stores tomorrow, Aug. 30.
GIVEAWAY: ONE GRAVE AT A TIME
Jeaniene, being the kind author she is, has offered up one copy of the latest Night Huntress novel One Grave at a Time to Vampire Book Club readers. Use the form below to enter, then leave a comment telling VBC which alpha hero you'd like to see Bones hang out with.