on
[From VBC: Today we turn things over to Zoe Archer. She's going to try an convince you 18th century men's style was super sexy. There are photos. Oh, and we're giving away one copy of her historical paranormal romance Devil's Kiss at the end of the post. Hint hint.]
I'm not going to lie. One of the reasons why I set my new paranormal historical romance series, The Hellraisers, in the 18th century is the men's clothes. Superficial? Probably. But as a long time student of costume history, I found there's just something incredibly sexy about the way men dressed in the 1700s.
Check out this gentleman:
Those tight, clinging breeches, the waistcoat, the buttons on his coat, and the boots. Oh, the boots.
And here's another detail from that same painting: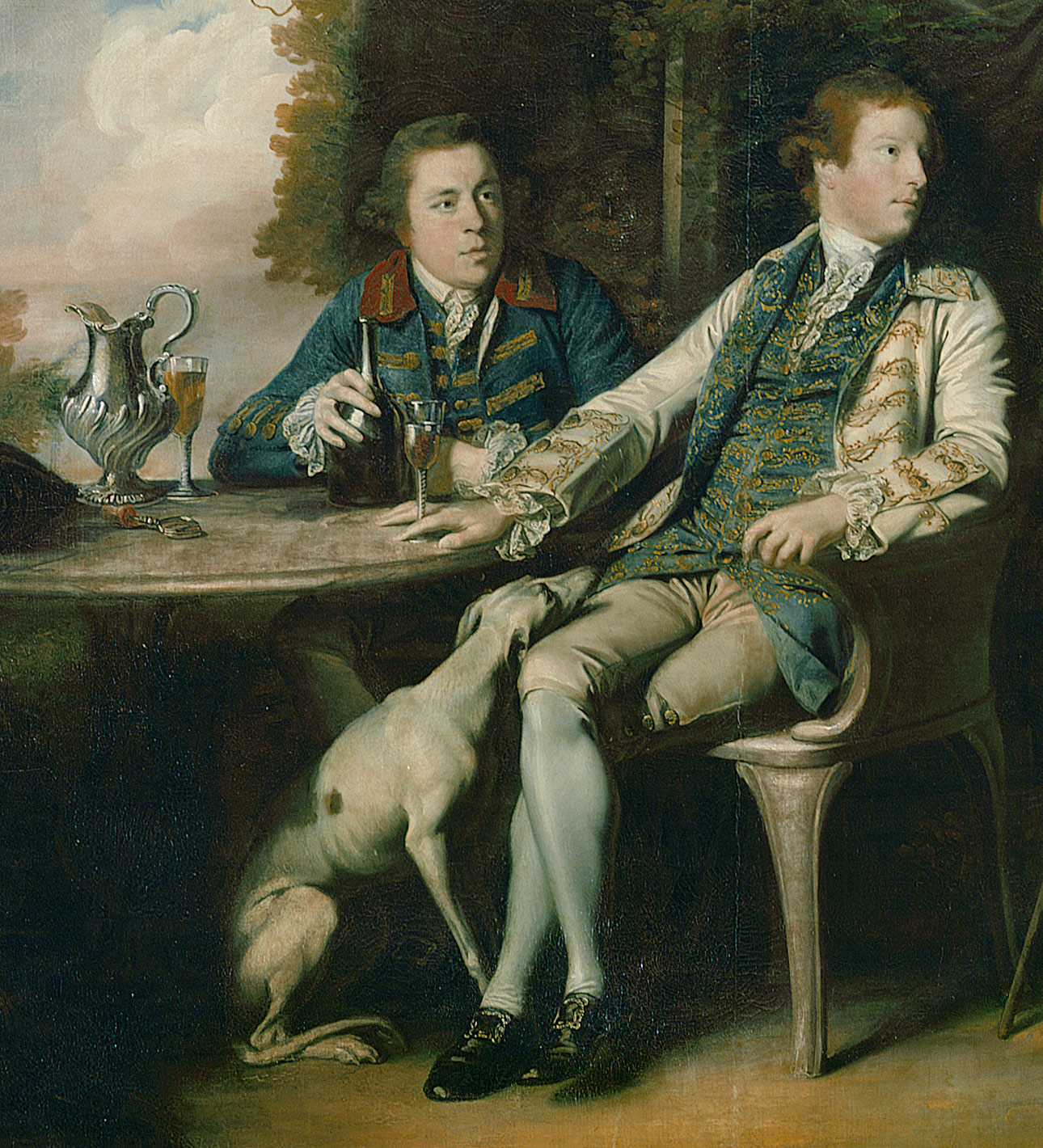 Look at the muscle of his calf beneath his stocking! All three of these fellows look like proper hellraisers, don't they? Plus, they make embroidery look masculine.
Look at this fellow and tell me a guy in embroidered velvet isn't sexy as all get out.
For the most part, men in the 18th century shaved their heads and wore wigs. Sometimes the wigs were made of human hair, sometimes animal hair. I'm not a big fan of wigs, so I circumvented that by having the heroes of my Hellraisers series wear their natural hair. And you know what that means?

Just imagine undoing that queue and running your fingers through that hair.
With all these delightful images in my head, can you blame me for setting these books in the 18th century? Especially because the heroes of the Hellraisers books are all very bad boys, as befitting their name. The clothing of this period is exudes earthy sensuality, just like the Hellraisers—five London rakes who will stop at nothing in their pursuit of pleasure. And when the Devil himself tempts the Hellraisers with the power to grant their every desire, the offer proves impossible to resist. But the cost is their souls. Only a handful of courageous women have the means to redeem these fallen men. Can they be saved? If they cannot, the consequences are dire—not just to the Hellraisers, but to all humanity.
When you're reading, do you picture what the hero (and heroine) are wearing? Does it add to your enjoyment of the story? And are there some clothes you find particularly sexy on a man? Share your answers, and you could win a copy of Devil's Kiss, the first book in my brand new Hellraisers series!
Find Zoë Archer online: website, Twitter, Facebook, Tumblr
Devil's Kiss (Hellraisers #1)
Zoe Archer
Published: Dec. 1, 2011 (Zebra)
Purchase at: Book Depository or Amazon
Excerpt

A handsome devil

1762. James Sherbourne, Earl of Whitney, is a gambling man. Not for the money. But for the thrill, the danger—and the company: Whit has become one of the infamous Hellraisers, losing himself in the chase for adventure and pleasure with his four closest friends.

Which was how Whit found himself in a gypsy encampment, betting against a lovely Romani girl. Zora Grey's smoky voice and sharp tongue entrance Whit nearly as much as her clever hands—watching them handle cards inspires thoughts of another kind…

Zora can't explain her attraction to the careless blue-eyed Whit. She also can't stop him and his Hellraisers from a fiendish curse: the power to grant their own hearts' desires, to chase their pleasures from the merely debauched to the truly diabolical. And if Zora can't save Whit, she still has to escape him…
GIVEAWAY: DEVIL'S KISS BY ZOE ARCHER
Want to win a copy of Devil's Kiss? Leave a comment answering Zoe's question, then fill out the Rafflecopter form below. This contest is open to U.S. and Canadian addresses only, and you'll need to enter by Dec. 18.