on
Halfway to the Grave (Night Huntress #1)
Jeaniene Frost
Published: 2007 (Avon)
Purchase at: Book Depository or Amazon
Rating (out of 5): 5 stars
Catherine Crawford kills vampires. She's been hitting the bars to find undead to slay since she turned sixteen and her mother finally told her what she is: half-vampire. Incredibly rare, Cat's mom was raped by a vampire. She holds the vampire part of her daughter against Cat. That means our heroine is doing her damnedest to take out everyone of those murderers she can. As a half-vampire, Cat has increased speed and senses, but you won't find her drinking blood for sustenance.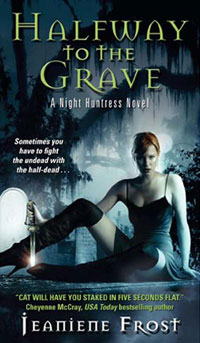 This plan worked just fine until the night she met Bones. The master vampire pegged her as hunting his kind immediately. On the upside, he also kills vampires. The bounty hunter strikes up a partnership with Cat. He'll train her, make her stronger and she'll get to kill vampires — just the ones he picks. Cat's on board, but spends the weeks of training hating Bones. In the process, though, Bones challenges Cat to recognize who she is and accept that being part vampire isn't a bad thing. She has this strong prejudice built in for their kind, often at the expense of her own self-esteem. Bones makes her question her life, who she is and forces her to decide if she can really love herself. Oh, and he's super hot. Bonus.
Jeaniene Frost crafts characters you want to know in real life — or in the case of the big bad, maybe you're happy he's fictional. Both Cat and Bones come with baggage. They're real, and it makes it that much easier to fall for them. The romantic story arc is natural and progresses with plenty of questioning. This isn't a paranormal romance where the heroine blindly falls for the hero. Cat makes him work for her trust, her love, and the readers reap the benefits.
Halfway to the Grave is action-packed, funny and sexy. It's the paranormal trifecta. Jeaniene Frost should be on your auto-buy list. I promise, after reading Halfway to the Grave, you'll want to immediately read the rest of the series.
(Note: Halfway to the Grave is our group read for January. Feel free to add comments on this review, or keep an eye out for the date of our Twitter discussion chat. Full details on the January group read can be found here.)